Last Updates

Friday, July 11, 2008 11:02 pm

The Pump

The two lovely slender girls, Natalya and Albina, toppless in jeans, are using a vacuum pump on their tiny tits, maybe hoping they wiil grow (and after that pampering each other with a sensual oil massage. They are looking so erotic here, just have a look! This is the final set of that day, the girls are relaxed, friendly, open to each other and to the cam.

Sunday, July 06, 2008 09:17 pm

We'll Save the World

I don't know what exactly do these girls Dorothy and Isabella during this set. May be they look for the way in USA to marry, may be they imagine themselves the angels turning over the world. (

webmaster

)

Saturday, July 05, 2008 09:18 pm

My Maid

I wish this beauty

Natalya

be my home maid. To bring me a beer, to read me a story under I sleep, to make me massage. To dance with me when I alone. Tell her what I want. (

webmaster

)

Friday, July 04, 2008 04:55 am

Lucy's Video

This video is a look to our photosessions in the studio. These three with cute Lucy's participation.

Tuesday, July 01, 2008 08:57 pm

The Secret Set

This was the last set done when we went to Olga's place. It's the most revealing set with a dildo. The model did not mind doing more sets of the kind, but it was the time for her mother to come home from work. She knows her daughter does erotic posing, but, surprisingly enough, she says it's ok, only dildo sets are not allowed. So, we had to go.

Monday, June 30, 2008 04:38 am

Zena and Myriam (video)

It's another video today with two interesting girls from Smolensk, Russia. One of them, Zena is told and slender, the second - Myriam is not told, but they both graceful and good to view. In this video they turn a hoop, jump with skipping rope and smile for you. Nude.

Saturday, June 28, 2008 08:07 am

3 Nymphs (video)

Bonjour! Webmaster is back from the sea, and we continue with video of three beautiful girls: Jane, Tasya and Helen Volga with camera on the Moscow river. One nude girl is good, but three - much better!
Coming soon:
Belinda
Vera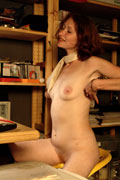 Sunny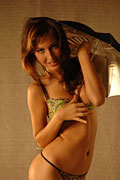 Camilla