Last Updates

Monday, June 16, 2008 08:53 pm

Myriam on Video

We are uploading videos again! The second new one about real, touching Myriam's masturbation. Be with her.

Saturday, June 14, 2008 11:24 pm

Jane Jumps (video)

We are uploading interesting videos again! The first one about beatiful Jane!

Wednesday, June 11, 2008 09:06 pm

Phylosopher's Dildo

Maybe you know this girl? Her name is

Maggie

, she's hot, young and sexy, and yesrerday she has become Master of Phylosophy! Congratulations! Maggie, we all wish you a happy grown-up life, and a phylosophical attitude to whatever happens to you. We will be missing you, please come back some day!

Helen and all the viewers, with love.

Monday, June 09, 2008 11:17 pm

Stockings On/Off

I have found another set of

Lis

for you! It was shot on the same day as the set with guitars and handcuffs, and it's the longest set of that day. Sexy girl with huge tits shows her long legs in stockings and without them - any way you prefer!

Sunday, June 08, 2008 09:17 pm

Hot Dancer

This happened when

Belinda

was preparing to take part in Moscow beauty contest. I was not among the veiwers, but later I saw the report about it. She was one of the best! And though she did not take any prize, in a magazine they said she impressed everybody with a professional oriental belly dance. Guess she did! And today let it be the time for you to be impressed - here comes hot dancer with a perfect body and glamorous everything, Belinda!

Wednesday, June 04, 2008 11:17 pm

Lovely Cousins

Again, time for our old friends from the Russian province, sexy ballet dancers

Olivia and Zena

. These pictures show the girls in the beginning of their modelling career, but I know that now they have become two of the very popular models in soft porn industry. Their pics can be found on erotic ads and on some of the world's best sites. However, they don't behave like stars. They are just two normal girls. I'm so happy to have them here!

Thursday, May 29, 2008 06:18 pm

Best Blondes II

You saw these two lovely blondes yesterday, it was their first set on that day, and here comes the second one. An hour later, the girls are a little drunk and a lot more relaxed. Legs in pretty stockings are up in the air, pussies are spread... Fabulous Natalya and Nasta know how to tease!
Coming soon:
Belinda
Vera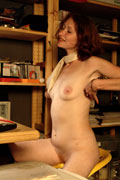 Sunny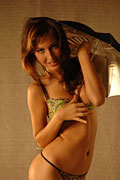 Camilla