Last Updates

Wednesday, April 02, 2008 09:23 pm

Teen Fascination

This is Ulyana, a real teen in a nice white outfit who shows you her sexy petite body and

touches herself

. You have already met her here before, though there's not too much of her on the web. She's a graduate student of a music college, she's going to be a choir conductor. Ulyana's not much of a model, she's just an 18-year-old girl with perfect tits and ass - a treat for those of you who prefer them small, smooth and lovely.

Tuesday, April 01, 2008 09:47 pm

Neigbour Whore

She came to ask a lighter. Girl from next door. You wish to pose in front of the camera for cash? - I have asked. Sure -

Stella

answered. And here's result - teen suit in young plump body and the varnished boots. Nice ass ant tits. And even a close up of her ass hole, always ready to dick.

Monday, March 31, 2008 09:54 pm

My Pink Panties

The good person should be much! So we speak in Russia. And I shall add - the sweet girl should be much! Yes,

Olga

is pleasant to me. I would go to the cinema with she. Looking as she plays with her pink panties and presses fluffy kitties to her nice tits ... Olga, let's go to the cinema tomorrow!

(webmaster)

Sunday, March 30, 2008 09:16 pm

Unplanned Striptease

This is the sequel of our Moscow centre tour with exotic tatar girl

Myriam

. It happened between

this

and

this

:) After cold november weather we have come into cafe to drink a little. I have told Myriam: come on, just try to undress here! She has agreed and even has danced private dance on my knees (by the way she's professional sriptease dancer) Helen simply looked and had a rest with us.

(webmaster)

Saturday, March 29, 2008 08:30 pm

Anal Carrot

Here is

Christine

's first attempt to do an anal sex gallery. She never tried it in real life before – neither with a man nor with an object. This time I have talked her into trying, for the beginning with not a t very big natural toy – carrot. Later she tried with a man, and still later – even with two!

Friday, March 28, 2008 09:41 pm

Doesn't Hesitate

Tonight we continue the theme of pregnancy.

Tessa

works as our stylist and hesitates of nothing for a long time. Be happy with her nude poses, great ass, and... really nice to touch her all. Honestly.

Thursday, March 27, 2008 08:28 pm

Cucumber Stimulus

Here is a new set of our old friend

Christine

with a veggie. This young sexy girl is going to pose, masturbate and maybe use a natural toy from supermarket. I think she's a very stylish girl with luxurious red hair, tight sporty body and such yummy pussy lips. She has always been a big fan of getting nude and showing her pretty body.
Coming soon:
Belinda
Vera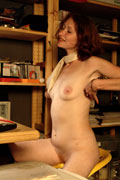 Sunny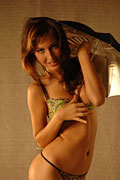 Camilla