Last Updates

Wednesday, January 24, 2007 05:19 pm

Masturbation video

Tonight you are going to see a short movie about our old friends who have been with us since Helevolga was up. Classical sexy Nadine and funny plump Miss Piggy, who are old friends in real life, were offered a contest - who cums first. One of them was a winner because the other one failed to cum at all, but at least one of them did, and both tried!

Monday, January 22, 2007 10:39 pm

Another Hairy Girl

I met this girl Mara in a fisting scene for another paysite, but on that day we simply had no time to do any fisting - we only did this lesbian

New Year set

. Before doing that, I also shot a simple set showing you this lovely slender teen. I really like big eyes, her fragile figure and

gorgeous hair

- not only the one on her head!

Sunday, January 21, 2007 10:55 pm

Soulu Jumps (video)

Soulu is absolutely exclusive - she's been my friend since 1993. Since then, she put on some weight, but still she looks very sexy for those who like plus-size brunettes. She never posed for another site and she doesn't plan to - she's a successful businesswoman. The girl said she liked the shoot as a whole, and some of the pics from there are on the walls of her bedroom, but the only thing she disliked was this skipping rope video. She said about the same situation when we took part in a topless beauty contest (I will report on it later): "I wish they grow their tits at least up to B cup and then tell girls with tits to jump!" She said it was not the best feeling. But she had to go through it, like others, because watching is funny anyway.

Sunday, January 21, 2007 10:42 pm

White And Tight

Here's a short and nice set about myself posing in white outfit with

white pantyhose

. It hardly fit me - it's kids size, but still I like the looks and the feeling.YOu haven't seen my recent sets for quite long, so I'd rather not let you forget who's Helen Volga - by the way, we turned 1 year this week. I'm so happy to have you here with me on the small jubilee!

Saturday, January 20, 2007 11:20 pm

Under The Tree

You don't often see a girl masturbate with a dildo in the wildlife, do you? Even I, as far as I remember, have not done this for my own website so far - but some day I will. And our long-legged beauty Lou is going to give you the show tonight - she's wearing her favourite short tiger print dress and having such a good time with

her favourite toy

! It was a nice day and we both had a lot of fun then.

Saturday, January 20, 2007 01:51 am

3 Skipping Rope

This time you will see 3 different girls skipping rope for you. Simply whatever you want: big tits, medium-sized and tiny - Juliet, Ianelina and Daisy! All of them pretty girls, indeed!

Thursday, January 18, 2007 11:10 pm

Red Lingerie

Kasey

loves to pose in lingerie, as well as nude - I don't know what she likes better, so we do both every time she's on cam. Short, fragile and extremely sexy, typical Russian amateur babe looks her best here - and I believe her best is very good, indeed!
Coming soon:
Belinda
Vera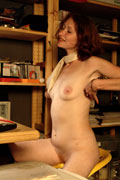 Sunny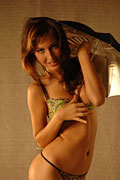 Camilla