Last Updates

Saturday, March 03, 2007 12:49 pm

Anticipation

Sexy woman

Allegra

on the big bed, nothing special is going on yet - but if you look her in the eyes you will see this horny girl is up to anything! And if you look at her nice sexy body you will guess her partner will take her straight from the word go! Later I will tell you in pictures what followed this kinky posing. There was quite a long and busy day in bed after we shot these pics!

Friday, March 02, 2007 02:53 am

New Model -Astrid!

Let me show you our new model

Astrid

today and say a few words about her - hope you will like how this hot and pretty young girl poses for you!

She's nice and sweet, not proud and she never gets tired. She doesn't know too many poses but she never argues and takes the pose that she's told - the ideal model!

Astrid's figure is almost perfect - I'm saying almost because I believe nobody's perfect - but I really like her slender body and legs and her wonderful big breasts. And as for the face, she does not look that kind of supermodel as in shown in her portfolio and as I expected, but in a way she's even better - you see a real amateur here, Slavic type, a little shy and very, very appealing.

Thursday, March 01, 2007 12:44 am

Rough Kid Smoking

I met

Vanilla Cunt

when she was only 17. She was a nice schoolgirl from a very good family, not yet a biker as she is now, but even in those old days she smoked. This time you will see her not in a good schoolgirl's outfit, and she's smoking again on the stairs of her home in October. And looking sexy as always!

Tuesday, February 27, 2007 01:08 pm

Orange Nylons

Some time went, and Anita's husband called again and suggested that they come once more and Anita poses to me. He just loves to watch her posing and the pictures that we make - that's all, they don't need the money and so Anita has a right be called a real amateur. I brought her nice

orange pantyhose

- though she herself sllok one of the brightest models here. And imagine, she's only 18! She posts a few pics on a dating site (her husband knows!) and the surfers can't believe their own eyes. They think they are pictures downloaded from an ordinary porn site. Only I know, and now you know too, that this real beauty, Anita, really exists and this is the real gorgeous naked body for you.

Tuesday, February 27, 2007 03:20 am

Private Dancer

Lola loves to dance. She dances in nightclubs, in variety shows, in strip clubs on a pole, bellydance in holiday resorts, in a peep show, and also at discos, at friends, at home - everywhere she can. This time you will see her dancing in my friend's home. Very uninhibited and very erotic!

Sunday, February 25, 2007 10:46 pm

Good Mood

Hi! It's me, webmaster. Yesterday one of our latest models,

Annette

, came in Moscow from far Siberian town Tomsk. She called me and we met in my place. We have drunk together 2 bottles of cognac and had fun in bed till the morning. She's nice girl and it was very pleasant for me :) She has big breasts, and I tell you a secret - she adores fisting! My hand hurts today :)

Therefore it's a high time to present you the new set of busty Annette. Enjoy!

Saturday, February 24, 2007 01:11 pm

Glamour Girl

In this very simple set our brunette supermodel

Aretha

is pozing against the wall, on a hight stool at my friend's. She's wearing a very simple knitted dress, like you saw in my set (

Nymph MILF

) that is only under 5 dollars, but as for Aretha, she looks a million dollars babe in it.
Coming soon:
Belinda
Vera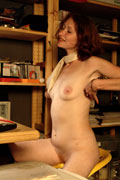 Sunny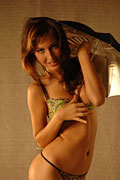 Camilla